Cowell College Welcome Week 2017
Meet Your Welcome Leaders!
Here's a chance to hear from Cowell's Welcome Leaders (WLs) before you meet them in person this September. WLs are here to help!
New Cowell students are expected to attend Welcome Week. Most events are optional while some are required (identified in the schedule/guide). We encourage students to attend as many events as possible: get involved early, make connections, and start the year off strong!
If you will live in UCSC housing, move-in dates differ by the college/facility of residence. If you live at Cowell, new students move-in on 

Friday, Sept. 22 and Saturday, September 23

(your specific move-in time will be emailed in mid-August).
For Cowell-affiliated new students who live at Cowell, mandatory Cowell College programming begins after you Move-In, so either on the evening of Friday, Sept. 22 and/or Saturday, September 23. Be sure to look at the UCSC Colleges App for more information. 
Note: there may also be required programming for Cowell students arriving earlier in order to participate in orientations for new Transfer students, new Educational Opportunities Program students, new International students, etc.
Welcome Week Guide
Cowell's 2017 Welcome Week Guide will be available through the UCSC Colleges App. The Guide will include both Cowell and UCSC-wide events and resources. To get the mobile guide, visit: https://guidebook.com/app/UCSCColleges to download the free UCSC Colleges app and then search for and download the Cowell College guide. Cowell's guide should be used for Welcome Week and throughout the year to stay up to date on events and resources.
Don't have a smart phone or a compatible device? No problem! The Cowell College guide can also be accessed from any computer with internet access at our web-based guide.
If you require a printed guide, please request it from the Cowell Programs Office; (831) 459-4655, cowellprograms@gmail.com.
Cowell Welcome Leaders and Resident Assistants
These student leaders offer enriching Welcome Week opportunities to help new UCSC students transition to college life. Get to know a bit about your Cowell Welcome Leaders, before you meet them in person, at our Welcome Leader Intro Page.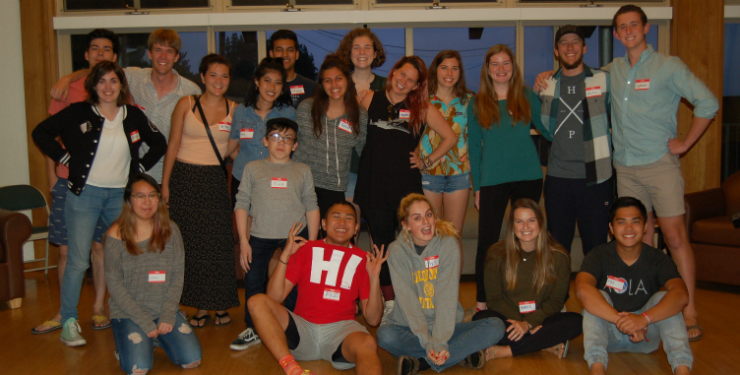 Cowell's 2017-18 Welcome Leaders and Resident Assistants
Living at Cowell?
New-student move-in for freshmen residing at Cowell College is Friday, Sept. 22 and Saturday, September 23. Students who live in UCSC housing (at Cowell or elsewhere) received info on roommates, details about which room they are in, and Move-In related details via email in mid-August. Students: make sure to check your "@ucsc.edu" email account for this info!
Boardwalk Frolic
UCSC's Boardwalk Frolic is Monday, Sept. 25 from 6 pm to 10:30 pm (time is tentative). Rides, dancing, laser tag, bowling, mini golf, and more! Event details, including how to purchase a ticket, are available at the event website. Note: there will be a free event called "Forts & Friends" happening at Cowell for those students who don't wish to attend the Boardwalk Frolic.
Fall Festival
Make sure to attend the free 
Fall Fest
on Tuesday, Sept. 20 (3-6pm). It is a resource fair that features representatives from nearly 200 UCSC student groups and offices. Dining Halls will close at 1pm this day and there will be free food at the Fall Festival. We strongly encourage new students to attend Fall Festival and make an effort to learn about many UCSC opportunities and services.