Cowell Commencement 2018
Saturday, June 16, 2018
12:30-2pm (procession arrives at 12:20pm)
UCSC East Field
The Cowell Commencement ceremony is one of the finest of Cowell traditions and a joyful community celebration. Faculty, staff and students are led in a procession by a bagpiper. The ceremony includes keynote and student speakers prior to the presentation of the graduates and the awarding of scrolls.
INFORMATION FOR GRADUATES

Please thoroughly read Cowell's Information for Graduates page and register to participate ("Step 1"). There are multiple steps for grads to complete, some with firm deadlines. There are event-related "todos" regarding parking passes, ordering regalia, rehearsal and more.

INFORMATION FOR GUESTS
Admission Tickets and Parking

Tickets are not issued to attend the Commencement ceremony and there is no limit on the number of guests. However, each student participant will be issued only two (2) Commencement parking passes. With 5 ceremonies on Saturday, parking on campus is very limited and we can not issue more than two passes per student.
Additional disability related accommodation for grads or guests are covered on this page; please note that sign language interpretation should be requested no later than Friday, May 4.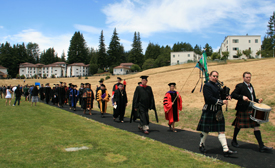 Guest Seating
Seating at the East Field ceremony site begins at 11:30 am (we ask that you not arrive earlier, as another college ceremony precedes ours). To fully enjoy the procession please be in your seat by 12:20 pm, when the procession of students, faculty and staff arrives. The program will begin promptly at 12:30 pm, once graduates are seated.
Event Site
The ceremony is held on a grass playing field that overlooks the Monterey Bay. The stage is flanked by two sections of graduate seating, on bleachers that face the audience. Guests sit in folding chairs and there are no steps involved in the audience section. There is a large portion of the seating area that is shaded. All guests should bring sun protection, including hats and sunscreen. 
Live Streaming of Commencement Ceremonies
For those unable to attend UC Santa Cruz 2018 commencement ceremonies in person, all ceremonies taking place at the Quarry Amphitheater and on the East Field will be live-streamed. Direct your computer/smart device browser to the appropriate link below to watch the ceremony in real time. All times listed are Pacific Standard Time. To ensure your device and network connection are able to access these materials, it is recommended that you click on one of the links below in advance of the commencement event you wish to view. If you are able to view the brief sample video clip, you should be able to view the commencement ceremony in which you are interested.
Quarry Amphitheater Ceremonies: http://www.ustream.tv/channel/PjzTDjzeWRQ
East Field Ceremonies: http://www.ustream.tv/channel/myZTDdHQcfg
All commencement ceremonies will be recorded and available for viewing, via these links, through Sunday, July 1, 2018. After that, links to downloadable copies of these recordings will be available on this page.
Print Program
To reduce waste, one program will be provided to each party of five or fewer. If your party would like more for keepsake, rest assured that many programs are left at the ceremony site following the event. Large-print programs will be available.
Resources and Amenities
Located to one side of the audience will be a Programs & Information tent, a Disability Support tent and a First Aid tent. All campus shuttles and vans drop passengers at the edge of the grass field (no private cars are allowed access to the event site). Drinking water is provided free of charge. Please bring a reusable water bottle. UCSC Catering will provide light refreshments for purchase (cash preferred), and the campus BayTree Bookstore will have memorabilia, sunscreen, and flowers for purchase. Restrooms are available about 50 yards from the shuttle drop. You may review a picture of the event site.
Two wheelchairs and attendants will be available where the shuttles and vans disembark, to assist guests from the edge of field to the audience section. Note these wheelchairs remain at the event site to support the series of ceremonies.
Consider making your hotel or dinner reservations now! For a list of Santa Cruz County lodging, click here.
Your Comfort and Safety
wear light-colored clothing, but layers may be appreciated
wear comfortable, flat shoes
wear a hat with a brim that will provide shade
drink plenty of water 
use sunscreen
And just in case...bring an umbrella! The ceremony happens rain or shine. Because of visibility issues, umbrellas may not be used for shade during the ceremony unless you are seated in the last row of the audience or standing to the side/behind other guests.
The ceremony site is used for 7 events over the commencement weekend. Please help us minimize cleaning needs. For the comfort and safety of all guests, please keep aisles clear of tripods, strollers, walkers and other items. Confetti, aerial drones, air horns and all other types of noisemakers are not permitted. Thank you for your cooperation.
UCSC's "No Pet" Policy
Please note that UCSC has a "no pet" policy that is strictly enforced. (Animals utilized for disability accommodation as defined by the Americans with Disabilities Act are allowed.) If you enter campus with a pet, you will be asked to leave. There are several "pet hotels" in Santa Cruz County equipped to board your pets; please check local listings. Thank you!
Cowell Commencement keynote speaker
We are delighted to have Catherine Carlstroem as the keynote speaker at the Cowell Commencement Ceremony. If you want more information about her, take a look at the page here. 
Photography
BestGrad is the official photographer for our ceremony and will take photos of each student participant. Students will have an opportunity, when registering to be in the event, to provide their contact info. 
International Guests
Do you need to invite extended family to the United States from another country? See the International Student and Scholar Services resource page:
http://isss.ucsc.edu/students/current/family.html
Directions to UC Santa Cruz
From Hwy. 17/ Hwy. 1 Northbound
Follow signs for "Hwy. 1 North/Half Moon Bay". This section of Hwy. 1 becomes Mission St., a city street. Turn right on Bay Street (there is a directional sign and a traffic signal), up the hill to UCSC.
From Hwy. 1 Southbound
Hwy. 1 becomes Mission St. as you enter town. Turn left on Bay Street at the signal, up the hill to UCSC.
At the UCSC entrance, follow the signs to EAST and COWELL. Parking attendants will direct you to the correct lot based on the parking pass displayed on your dashboard (there are 6 ceremonies on campus on Saturday). Shuttles will take you to and from the Cowell commencement ceremony, or you may choose to walk.
A directional map to campus or detailed and interactive UCSC map are available online.