College Nights: A Cowell Tradition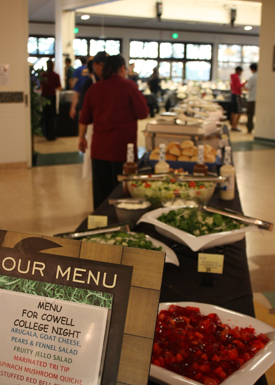 Cowell College Nights are open-style format, with a program occuring during the event, but allow students to come in and out during the entire event, with the food being buffet style. 
College Nights are planned by students, staff, and faculty. These gatherings of the Cowell community are not to be missed! 
Menus for College Nights are imaginative, diverse and scrumptious! Students are very involved in the menu planning process. In the recent years food themes have included Italian, Persian, West African, Mexican, Japanese, Thai, Indian, Filipino, Italian, and more. Cowell hosts 3 College Nights spread out over the quarter.
For any questions about College Night, feel free to stop by Cowell Programs Office, Room 133 or email cowellprograms@gmail.com.