College Nights: A Cowell Tradition
For over forty years, College Nights have been a Cowell tradition. These special evenings include a program featuring music, dance, drama, comedy, Cowell Assembly meeting, student talent, or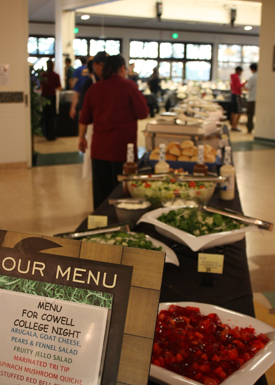 multicultural enrichment. College Nights are attended not only by students, but also by faculty and staff, sometimes with their families.
Programs for College Nights are planned by students, staff, and faculty. These gatherings of the Cowell community are not to be missed! 
Menus for College Nights are imaginative, diverse and scrumptious! Students are very involved in the menu planning process. In the recent years food themes have included Italian, Persian, West African, Mexican, Japanese, Thai, Indian, Filipino, Italian, and more. Cowell hosts 2 College Nights a quarter.